ONLEI Technologies is the best training company to learn Web Development. Web development, also known as website development, refers to the tasks associated with creating, building, and maintaining websites and web applications that run online on a browser. It may, however, also include web design, web programming, and database management.
Web development is closely related to the job of designing the features and functionality of apps (web design). The term development is usually reserved for the actual construction of these things (that is to say, the programming of sites). The basic tools involved are programming languages called HTML (Hypertext Markup Language), CSS (Cascading Style Sheets), and JavaScript. There are, however, a number of other programs used to manage or facilitate the construction of sites that would otherwise have to be done from scratch by writing code. A number of content management systems (CMS) fall into this category, including WordPress, Joomla!, Drupal, TYPO3, and Adobe Experience Manager, among others Internship on web development imparts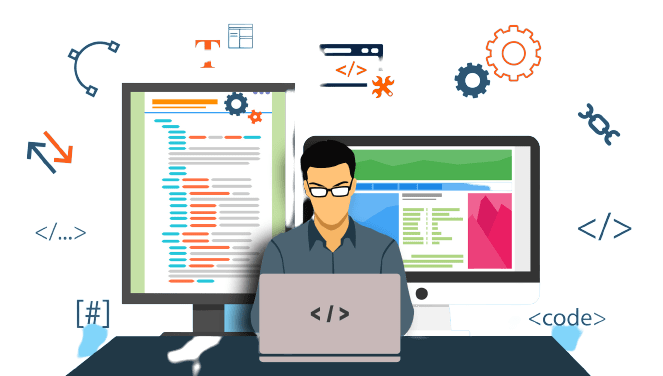 HTMLtechnical and programming skills on the below list of web development areas .
CSS
JavaScript
PHP
Front – end Development
Web Development
Full Stack Development
ONLEI is one of the best Web Development Training Institutes in Noida. Web Development Training is provided according to current industry standards which enables one to land their dream jobs in top companies of the world. ONLEI is a well-renowned training company providing the best training services in Noida, especially in Web Development Training. We impart practical knowledge through live project training and further, we also provide placement assistance for all. The course curriculum for Web Development is designed to give in-depth knowledge which covers all the modules from basic to advanced level.
Benefits of Python
Builds your self-assurance and self-worth

Huge return on investment

Web developers will constantly be in demand

Different career opportunities

May inspire you to build your individual website

Rewarding career option
We believe in practice what you preach and thus the Web Development at ONLEI Noida involves "Hands-on-experience" therefore each person is motivated to practically conduct each topic which is discussed in the sessions provided at ONLEI Noida. This training also ensures that once the training is completed, the candidate gains all the concepts and skills effectively and can apply them efficiently in his chosen field of work.
Career Opportunities
Front-end developer

Full-stack engineer

Back-end developer

Software engineer

Senior web developer
Web Development Online Training
Web Development training will help students to create a baseline to enter into the IT industry.

It is the most demanded course in today's scenario.

ONLEI Technologies recommends all the department students to go with this training especially IT & CSE Students
Web Development Summer Training
As the students have to implant into any training in their summer break. They should go for web development training as they have ample time to invest in their summer break.

And for the industrial training also they should opt for web development training in summer break. Identifying real time training with a recognized course certificate is very important.

After completing the Web Development training will acquire practical knowledge, analytical skills, problem-solving skills and designing skills.

Duration for Web Development Summer Training – 2 / 4 / 6 / 8 Weeks or depending on students' needs.
Web Development Winter Training
Web Development training can be done by any student whether engineering , diploma or arts students or management students

Due to its demands and high pay range, ONLEI recommends every student to gain the skills of Web Development.

Students can prefer this training to enhance their skills towards their successful future. As it is in high demand.

The reason is, your career is getting enhanced and Practical knowledge with analytical and designing skills carves the Web Developer interns towards cutting edge technologies. Working as a Web Development intern will help them to achieve the same.

Duration for Web Development Winter Training – 2 / 4 / 6 Weeks or depending on students' needs.