Web Development Internship Training
Web Development Internship Program for College Students or Freshers
ONLEI Technologies provides Web Development Internship Training .This Internship enables students to be a good communicator, who can speak their mind, with new ideas are always preferred over the ones who are only good with coding. ONLEI Technologies provides Web Development Internship .
Web development, also known as website development, refers to the tasks associated with creating, building, and maintaining websites and web applications that run online on a browser. It may, however, also include web design, web programming, and database management.
Web development is closely related to the job of designing the features and functionality of apps (web design). The term development is usually reserved for the actual construction of these things (that is to say, the programming of sites). The basic tools involved are programming languages called HTML (Hypertext Markup Language), CSS (Cascading Style Sheets), and JavaScript. There are, however, a number of other programs used to manage or facilitate the construction of sites that would otherwise have to be done from scratch by writing code. A number of content management systems (CMS) fall into this category, including WordPress, Joomla!, Drupal, TYPO3, and Adobe Experience Manager, among others Internship on web development imparts technical and programming skills on the below list of web development areas .
HTML
CSS
JavaScript
PHP
Front – end Development
Web Development
Full Stack Development
After getting Internship done in Web Development
Write well designed, testable, efficient code
Create website layout/user interface
Integrate data from various back-end services and databases
Gather and refine specifications and requirements based on technical needs
Create and maintain software documentation
Search Engine Optimization
Be responsible for maintaining, expanding, and scaling of websites
Stay plugged into emerging technologies/industry trends
 Cooperate with web designers to match visual design intent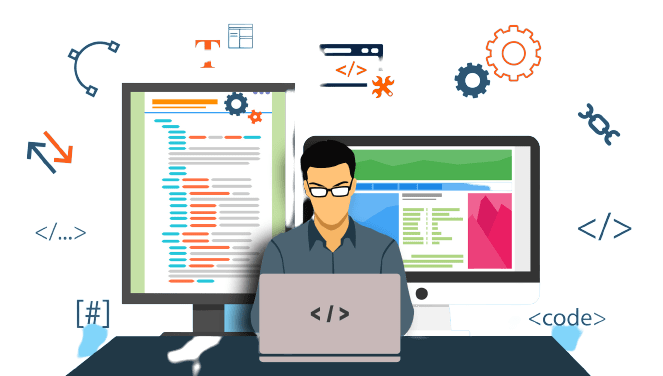 Apply for Web Development Internship Training
 Internship Training Benefits
Expert from Industry
Internship Letter
Certificate of Completion
Project Letter
Live Sessions with Live Projects
Practical Knowledge & Industrial Exposure
Certificate of Excellence for Selected Students
Projects
Placement Opportunity After Internship Training
ONLEI Technologies also provides placement opportunity after Internships
"Quality training and Placement is our sole responsibility"
We at ONLEI Technologies are committed to provide placement to all our student. Our dedicated HR Team is working continuously with the various companies to get requirement are share with student. We are able to place our all our student into various companies including Top MNC to startup companies.
How placement work in ONLEI Technologies:
We are continuously approaching to the companies and sharing the information about the trained candidate available with us, and companies are contacting us as and when they have requirements. Apart from above, many companies are already know knowledge level of our student, so they directly approaching us for placement. Our core strength is our teaching method. We are highly focusing on practical and hands on learning. It will enable our student to stand apart from any other job candidates in competition. In past our students are able to get clear many tough competition. Have a look our google review for better understanding.
Our Placement Cell Benefits
We have the best recruiters.
Getting the job for the freshers graduates is very important we the ONLEI Technologies understand the perception and provide 100% placement assistance.
We the ONLEI Technologies not only train the students but we prepare them to face the professional world.
Job-oriented and advanced training is our motto.
High end trustworthy outsourcing services.